AUGUST 1, 2005
[THIS PROPHETIC PAGE HAS BEEN UPDATE-WE HAVE ONLY ADDED DATED FULFILLED PROPHECIES IN GREEN FONT].
TribeOscope -Prophetic Empowerment Book. Finally Available- 256 pages. Info @ end of message.
Since my childhood I have had Angelic visitations and have been given specific information regarding world events, authority in the area of weather/elements and other things. The last general public Prophetic Publication on September 1, 2004 was when I spoke about the Earthquakes happening in my State of Washington, West Coast and Pacific Rim after Sept. 15-October 2004- and spoke at a gathering that Mt St. Helens Volcano should erupt on October 4, 2004. This was weeks before any seismic activity detected. (All of these signs did come to pass - Thousands of Earthquake swarms began on the eve of Yom Kippur-9/24/04 and the Volcano blew Oct. 1 & 4, 2004 - "There is a God that revealeth secrets."
God in His wisdom created us all uniquely, the Holy Spirit administrating the "gifts of the Spirit" as He wills, therefore, we should expect and appreciate the diverse manifestations of Spirit. This information is not meant to create fear or a sense of doom; it is shared to create Awareness and Intercession. I believe that if enough positive people come together in prayer/meditation- that what has been created by the Ego, fears and negativity of mass consciousness can be uncreated, thus, reversing the outcome, softening the impact, or at least delaying it. We see in the Bible when the Prophets spoke; if people prayed, repented and fast the prophecy was delayed or did not come to pass. (ie Moses, Jonah, Isaiah). This is what Apostle Paul meant when he said, "prophecies shall fail". 1 Cor. 13:8
I have been given permission by the Spirit to share some of the information revealed to me over the past 4 months. "Surely the Lord God will do nothing, but he reveals his secrets to his servants, the prophets. The LORD has spoken, who can but prophecy." Amos 3:7-8 The prophecies below are direct results of man's actions, it is not God doing this. [Those that have been acquainted with me for some time knows that since 1998 I was given insight to interpret what the heavens are prophesying accurately without training, as the Spirit reveals - ie Daniel, Job, Isaiah, , Deborah all experienced this level of prophetic gifting].
ANGELIC VISITATION
During my 3rd morning in Karachi, Pakistan on March 19, 2005 I had an Angelic visitation and was told some specific disturbing things about this Fall Season 2005-2007 (I mentioned this briefly in the Pakistan Mission Report Newsletter). He went on to specify that especially while the Sun was in Sagittarius November 23-December 21 things could be very critical for our country (USA) and the world.
As I was taken out in the Spirit of the Lord, I was told to tell people to do special Prayers, Intercession and Fasting between September to November for our nations, the leaders and the world because everything is about to shift again. From the human point of view this is not a positive shift,
THIS IS A SHIFT OF MASS DESTRUCTION ON THE PLANET.
Within a period of several months THE WAR DEATH TOLL ON ALL SIDES ARE ABOUT TO DOUBLE OR TRIPLE THE NUMBER SLAIN IN THE PAST 2½ years. He reminded me of what he had shown me in 1998 about the war starting in 2003 and that between 2003-2007 would be the beginning of great sorrow for the world.
I was taken to Mt. St. Helen's Volcano and saw an eruption. Then He drew my attention away and said, "The Attacks will soon begin in America". A Calendar was partially shown to me, but I could not see the dates or exact month, everything was blurred. However, in my Spirit the word "weekends" I could feel very strongly. (I am only sensing that there will be some very significant things happening on weekends).
ASTROLOGICAL IMPRESSIONS & REVELATIONS
"And there will be signs in the heavens, the sun, moon and stars (constellations)..the sun shall be darken (solar eclipses) and the moon turned to blood (lunar eclipses)." "Look up your redemptions is near."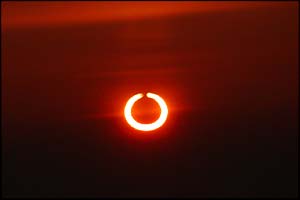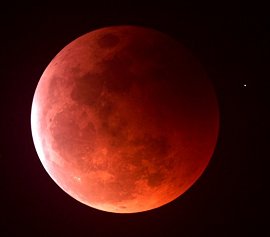 ANNULAR SOLAR ECLIPSE ------ --- LUNAR ECLIPSE

MARS MOTION IN RETROGRADE
*** October 1, 2005 - Planet MARS will go Retrograde and appear to stand still in its station until December 10, 2005. Then it will appear to move backwards to its place until February 4, 2006. It will be visible 35-43 millions miles in the Zodiac Sign of Taurus (which also symbolize Judgment). This will be a VERY CRITICAL time for the planet as the heavens prophesy and exert influences of INCREASE WARFARE, Heavy Casualties, Freak Accidents, Terrorist Attacks, Super Storms, Earthquakes, Volcano Eruptions and Major Loss of Life.
[FULFILLMENT OF THE MAJOR LOST OF LIFE & EVENTS ON THE WEEKENDS]
* HURRICANE KATRINA Made landfall after midnight Sunday August 28, 2005- through the early morning hours of Monday August 29, 2005. New Orleans, Louisiana was ordered to evacuation "SUNDAY" the 28th.
* HURRICANE RITA made landfall into the Texas and the Gulf on "SATURDAY" September 24, 2005 causing destruction.
* HURRICANE STAN made landfall on Tuesday - October 4, 2005 after days of rain and flooding over the "weekend". It was followed by a an Earthquake on "SATURDAY" October 8, 2005 that caused a landslide burying untold thousands under mud in Guatemala and El Salvador.
* Pakistan's Massive Earthquake hit "SATURDAY" October 8, 2005, the death toll is over 87,000.
"FREAK ACCIDENTS"- "Heavy Casualties" I Heard the Spirit say on July 29, 2005. Posted August 1, 2005
August was said to be one of the worse months on record for "Mysterious Air Accidents & Crashes": Reported by Associated Press: "FREAK ACCIDENTS"
Sixteen people were believed to have died Aug. 6 when a plane operated by Tunisia's Tuninter crashed off Sicily. 8/6/05
Cypriot plane crash 'a mystery' (SA) Bodies froze while in air- 121 Dead 8/14/05
Plane Crash in Venezuela Leaves 160 Dead - both engines mysteriously failed 8/16/05
LIMA, Peru - Rescuers combed a jungle marsh Wednesday for victims of a Peruvian airliner that split in two after an emergency landing during a fierce hailstorm, killing at least 41 people, 8/23/05
At least 149 killed in Indonesian air crash (China Daily/Agencies) Updated: 2005-09-06 06:17
MEDAN, Indonesia: A domestic jetliner slammed into a crowded neighborhood in Indonesia's third largest city yesterday, bursting into flames and killing at least 149 people, many of whom were on the ground. Up to 15 passengers survived the inferno, including an 18-month-old boy, officials said. 9/5/05
BAGHDAD, Iraq - Thousands of people flocked to the funerals Thursday of the nearly 1,000 Shiite pilgrims killed in a stampede during a religious procession, as critics blasted the government for failing to prevent the tragedy. 8/31/05
CNN- September has been named the bloodies and most deadly month since the war in Iraq began and it's only the middle of the month. Almost daily attacks and suicide bombs killing hundreds; the insurgences seem to be getting stronger.
HERE COMES MARS
*** October 3, 2005 - (the last day of our Conference) "There will be an Annular Solar Eclipse (the Sun appears as a Ring of Fire with Moon in the middle). At Sunset will be the Jewish New Year also called Rosh Hashanah and Feast of Trumpets or Yom Teruah (Judgment Day). The Sun will be in Libra, the Scales of Justice-Judgment/Balance.
The Divine Court will be open as the "spirits" of the nations present their cases before the Supreme Loving Righteous Judge of all flesh and spirits. A Verdict will be rendered October 12-14, 2005 of what shall be and not be for the next year. The Awareness, Intercession and Choices we (personally, as a family, spirituality, as a nation, and the world) make during this period (now) will determine how we will be impacted by the things to come or if the prophesies are postponed.
The Annular Solar Eclipse of October 3, 2005 is happening approximately 42 months (nearly 1260) after the 2002 Alignment in Taurus - April 2002 - I was given detail prophetic words at that time regarding the War, Earthquake in the Indian Ocean near Indonesia, etc. see the links below. http://www.atam.org/cycleofsightings.html http://www.atam.org/Prophecies.html
VERY IMPORTANT & UNUSUAL: Sunset October 3, 2005 is considered October 4, 2005. Due to the Order of the heavens and both Muslims and Jews observing the Lunar-Solar Calendar, Rosh Hashana- (Judgment Day- Jewish New Year) and Ramadan Muslim Holiday basically falls on the same day 2005 and 2006. Ramadan usually fall in November/December. Ramadan is the festival or holiday that starts the 30 -day period of Fasting for the Muslims worldwide - ending on November 2, 2005.
The Ring of Fire Eclipse will be seen (effecting) mostly Muslim countries. The planets will form a Pentagon within the Zodiac Circle. The Pentagon (like pentagram) is a highly occultic symbol, the influences from it can be used to render Good or Chaos and Destruction. The Enlighten Muslim Imans (teachers) and Seers will no doubt interpret this correctly. The positioning of the planets strongly suggest VICTORIES in the Muslim camp for whatever they set out to do-it also suggest Weakness and Vulnerability to the Infidels (West)Great Satan and Israel in their perception.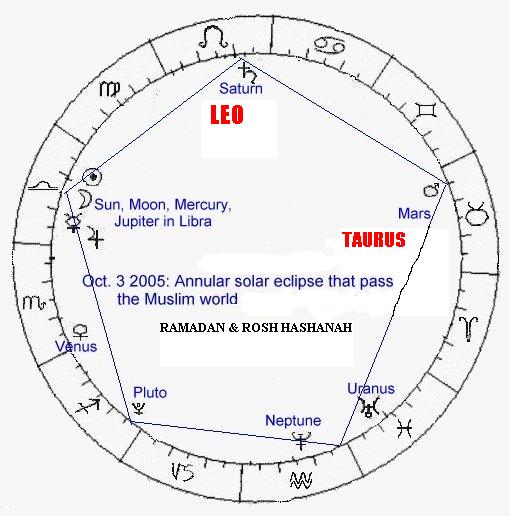 THE ASTROLOGICAL PENTAGON ASSIST ISLAM
On top of that, October 30, 2005 -Lailat-ul-Qadr (Night of Power) is the high point of their festival honoring the Koran being given to Mohammed on this day -Mars is closest to Earth and Saturn is in Taurus. Saturn is symbolic of Satan or negative influences empowering the war efforts of the twisted leaders of humanity.
After October 3, 2005 people will be very busy killing themselves, each other and thinking of new ways to kill more. The Islamic Symbol is the Crescent Moon and Star. November 29, 2005 the Crescent Moon will appear and Jupiter (Father of All) will be just above it not positioning to the exact symbol, thank God. However, there is yet a lot of heavenly help being exerted for Jihads (struggles to overcome).
Is there anything that can REVERSE the decision of the heavens? In the days of Esther, Haman knew what day the Jews would be most vulnerable based on casting Pur (astrological forecasting), the heaven can not lie. Thus, the only way to Reverse the decree of the heavens is through Fasting and Prayer (Intercession). This allows the victim to absorb the negativity and transmute it to power, thus, reversing the polarity of energy to become the victor. Esther Chapters 3-9
*** October 17, 2005 -(Feast of Tabernacles begins at sunset) - There will be a Lunar Eclipse, the Full Moon will be in Aries the Lamb but rule by Mars (god of War). The Heavens yet bearing witness of the "spirit of War, Terror and Hate" being expressed through the hearts of men.
Is it just coincidence that these astronomical events are landing on Prophetic High Feast Days this year? No! Before anything happens on Earth, the heavens must first declare (prophesy) it. Psalms 19:1 - We must take heed, be watchful as Jesus taught (not fearful- but aware) so we can be led by the Spirit where to go, when to go and how to go for our safety.
*** November 7, 2005 - Mars will be in Opposition (opposing Earth-Earth directly between Mars & Sun) it wont be this close again till year 2287. *** Nov. 14 - Mars and Moon conjuncts in Taurus-Sun in Scorpio. And many other events that will take too long to explain and could be very complicated.
Due to this Opposition, the goodwill that may be in the hearts of some leaders will be repressed and overcome by Vengeance and Violence. This negative energy will trickle down to be expressed in all areas (family, business, friendships, etc) for those not being filled with Love.
IMPRESSIONS & VISIONS ETC.
On or about October 3, 2005 the situation in Israel/Middle East will become very tensed as well as the whole region. I expect Israel to launch some sort of attack against its neighbors before October ends and a major bombing raid performed by USA troops. This will be a very critical time also for our forces. Because of Mounting Casualties, pressures and frustration a new Battle Plan and Method of attack will have to be drawn up by shortly after (Sukkot) the Lunar Eclipse of October 17, 2005. This will also include real improvement for the security of this country from "terrorist attacks".
***On July 29, 2005 I had another Angelic encounter and was taken by the Spirit into what appeared as the Earth's Core. He said,"Speak and decree "Magnetic Storms" and there will be". I did as he told me; suddenly I was over the Pacific Ocean and could see through the water. He said, "Command the Earth to shake that the seals may be broken off the hidden Volcanoes". When I did I saw steam and smoke rising out of the Pacific, Atlantic, other bodies of water, the ground, and as far north as the Artic Ocean. Then I saw the year 2009 in huge numbers.
I know by revelation that we shall begin to see Increase Activity of under water Volcanoes Erupting and non-mountainous under earth Volcanoes causing great devastation and disruption with possibly Major bi-continental explosions nearly simultaneously by 2009.
I heard the Spirit say, "The Ring of Fire that appears in the sky on October 3, 2005 is also reflecting what will happen in the Pacific Ring of Fire. The month of October will move us to a phase where we will see Earthquakes measuring over 9 and 10. on Land and Sea. The phrase "magnetic storms" (geo or electromagnetic storms) shall become common in News Reports as Solar Storms increase.
(This Massive Earthquake measured just below 8 on the Richter Scale)
* Pakistans Massive Earthquake hit "SATURDAY" October 8, 2005, the death toll is over 87,000.
-------------------------------------------------------------------
DUE TO GEO-MAGNETIC DISTURBANCES PRODUCES BY SOLAR FLARES, THE NORTHERN LIGHTS (AURORA BOREALIS) WILL BE SEEN AS FAR SOUTH AS THE MIDWEST ON DECEMBER 13, 2006, ACCORDING TO NOAA (National Oceanic and Atmospheric Administration).
**The Negativity, Aggression, Violence and Ego will be manifesting in full force on every walk of life.
**I see another School Massacre that will be worse than Columbine before the winter ends-if not stopped.
[FULFILLED]
Thanks to Intercessors and good citizens this was stopped so far.
2 Teens Arrested in Alleged Massacre Plot
By Associated Press
Sun Dec 18, 3:46 AM UPDATED 8 HOURS 36 MINUTES AGO
LANCASTER, Calif. - Two teenagers were in custody for allegedly plotting to carry out a Columbine-like massacre at their former high school next Valentine's Day, authorities said.
The former Quartz Hill High students, whose names were not released, were arrested Thursday after searches of their homes turned up knives, ammunition, a gas mask and bomb-making instructions downloaded from the Internet, according to the Los Angeles County Sheriff's Department.
Brown said an investigation began Wednesday when a student contacted the school's vice principal and said the former classmates were planning a "Columbine-style assault" on the campus. The student said she had learned about it second-hand.
The boys told investigators that they planned to kill Quartz Hill students who had made fun of them, using guns and homemade explosives, then commit suicide, Brown said.
On Friday, deputies at the sheriff's station in Lancaster displayed a page from the 15-year-old's notebook with the scrawled message: "When I'm God, everyone dies."
Deputies said they found a black trench coat at one boy's home, possibly to be used in imitation of the similarly-dressed Columbine killers, and the 15-year-old boy had carved the word "hate" into his forearm, authorities alleged.
Wounded Principal Praised As Hero in Tennessee.
By DUNCAN MANSFIELD, Associated Press Writer 11/9/05
JACKSBORO, Tenn. - Principal Gary Seale was shot while wrestling with a student who had opened fire in school and killed an administrator, then managed to get to the intercom and order a lockdown, helping to end the rampage, authorities say.
The administrators and a teacher helped wrestle the gun away from the 15-year-old student, deputies said. Assistant Principal Ken Bruce was shot in the chest and died at a La Follette hospital, authorities said.
"This situation could have gotten much worse," said Mark Wells, vice chairman of the Campbell County Board of Education. "It did not because our staff followed the (emergency) plan in place."
**I see a trend coming among young people to Commit Suicide in Public Places (School, Malls, Video Tape, Internet). I hear News Reports. [THIS CAN BE STOPPED IF WE WATCH AND PRAY].
JAPAN POLICE TARGETS INTERNET SUICIDE CLUB - 2/21/06
HIGH SUICIDE RATE by Andrew Harding - BBC News
"The internet has been blamed for a spate of group suicides which appear to have been arranged in online chat rooms. As of Feburary 2006 there are 91 confirmed dead in Suicide Packs.
It is a growing, and morbidly frank underworld of chat rooms and websites with names like "Suicide Club," where thousands of (mainly young) people meet and talk and plan their deaths. At least 26 people have died in this manner in the past two months.
In recent months, dozens of Japanese have crossed that road together. In the last four night alone three groups of three people, and two groups of four have been found dead - usually gassed in cars on remote mountain roads.
"It's almost like a cult... these internet groups," argues Yukiko Nishihara, a Tokyo helpline worker. "When people are lonely and suicidal - but afraid of death - they find these websites which egg them on. There's an inhuman element to it."
-----------------------------------------------------------------
PA. TEEN FATALLY SHOOTS HIMSELF AT SCHOOL
Disappointed over low grades in school, he shot himself in the hallway between classes. ASSOCIATED PRESS 12/12/06
**I see major GLOBAL GOVERNMENTAL SHAKE UPS between October- December 2005. Change in Governments, Overthrows, Assassination Attempts, Deaths, Dissention between the Leader and Cabinet Members especially in this list of nations. Austria, Tanzania, Sierre Leone, Paraguay, Japan, Israel, Ecuador, Togo and USA. Internal Turmoil, Civil Unrest, and War.
FULFILLMENT ONGOING
Time does not permit to report the Global Unrest & Governmental Shake Ups in the named Countries about that has developed in the past 2 months; INCLUDING THE USA. I stated as my angel showed me between October- December 2005. The news is filed with the stories of Scandals, Money Laundering, CIA Leaks, high Official in this country that may be INDICTED, with implications of Vice President Chenney and President Bush.
Ariel Sharon Prime Minister of Israel begin having Srokes in December 2005 and now is in a Coma.
**I see Changes in the Governments of Libya, Egypt, Sudan and Spain between October 3, 2005 and April 12, 2006 - [If Intelligence fail and there's no Divine Intervention President Mubarik of Egypt will not be in Office by summer 2006].
"SPANISH PM MAKE SURPRISE NEW CABINET CHANGES" --- By CIARAN GILES, Associated Press Writer
Fri Apr 7, 6:41 PM
MADRID, Spain - Spain's prime minister announced a surprise Cabinet shuffle on Friday, replacing his defense and interior ministers in the first major changes to his inner circle since coming to office two years ago.
**I see Darkness and Death around President Bush and his family. It will take another miracle for him to finish this term. However, I see the sword held over the Bush household over the next 6 months- a strong possibility of a death in the family or close attempt on his life. (Possibly between October-November)?
ON A RADIO TALK SHOW IT WAS SAID THAT PRESIDENT BUSH HAD TO BE MOVED BETWEEN NOVEMBER 28-29 FOR HIS OWN SAFETY. THIS INCIDENT DID NOT GET MEDIA ATTENTION FOR FEAR OF PANIC.
[Looking at the Presidents Approval Rating extreme drop in 6 months and many other negative things regarding the White House, I am beginning to realize this meaning could also be "POLITICAL DEATH"].
-----------------------------------------------------------------------
FIRST LADY LAURA BUSH CANCER SCARE
LAURA BUSH HAD A MALIGNANT TUMOR REMOVED IN "NOVEMBER" - IT WAS SKIN CANCER. (12/19/06) CNN
**October will not be a good month for investment for those Not led by the Spirit, a Downturn in the Economy-but for those who trust in God expect prosperity.
During this phase of astronomical events and the effects of man's poor choices being felt over the next 2 years, there will also be other Signs in the Day & Night Skies. UNDENIABLE FLYING OBJECTS- UFO's will be appearing and filmed by reputable people, journalist and seen by thousands at one sighting.
OCTOBER 13, 2010 - THOUSANDS WITNESSED A FLEET OF UFO'S OVER MANHATTAN, NY
-----------------------------------------------------
Jon Hilkevitch
In the sky! A bird? A plane? A ... UFO?
Video: UFO over O'Hare Airport?
Published January 1, 2007
It sounds like a tired joke--but a group of airline employees insist they are in earnest, and they are upset that neither their bosses nor the government will take them seriously.
A flying saucer-like object hovered low over O'Hare International Airport for several minutes before bolting through thick clouds with such intense energy that it left an eerie hole in overcast skies, said some United Airlines employees who observed the phenomenon. It was November 7, 2006 about 4:30 pm before sunset.
---------------------------------------------------------------
AIR FORCE COLONEL REPORTS LIGHTS 'NOT OF THIS WORLD'
Snaps images above Arkansas: 'I have no idea what they were' 1/17/07
http://wnd.com/news/article.asp?ARTICLE_ID=53820
[Paste link to address bar to get the story]
-----------------------------------------------------
They will no longer be limited to being seen in the night sky but in broad Daylight. I see the President being questioned LIVE about this, although the Press Conference may be related to other world issues. And I also hear the word "Undeniable" being used and will be used a lot by newspaper and cable Media to the point of almost changing the term from "unidentified" flying objects to "Undeniable Flying Objects". [nothing to fear at this time]
YOU HAVE BEEN GIVEN PRIVILEGED INSIGHT BY THE SPIRIT OF PROPHECY (the Testimony of Jesus Christ) OF SPECIFIC DATES AND SEASONS REFLECTING THE TIMES WE ARE IN AND INSTRUCTION OF WHAT TO DO. BE AWARE! INTERCEDE! MARK THESE DATES AND PERIODS OF TIME SURROUNDING THEM ON YOUR CALENDAR - BE THE CHANNEL TO RELEASE LOVE, MERCY AND GRACE TO YOUR HOME, CITY, STATE, COUNTRY AND THE WORLD.
OTHER INTERESTING POINTS
Did you know that Pope John Paul II was given a prophetic title as all Popes are? His was "De labore Solis" meaning Labor of the Sun (eclipse of the Sun and working under the heat of the Sun).
He was born during an Annular Solar Eclipse in Taurus- May 18, 1929 and died during a rare Solar Eclipse-Sun in Aries - April 8, 2005 - More insight later.
Some of my Muslim brethren that I talk with from time to time from the Twelvers sect of Shiites, they believe in prophecy. Mohammed prophesied 1500 years ago that, "When a Double Eclipse (Solar/Lunar) appears in the month of Ramadan (Muslim Holy month of Fasting "November- December) the 12th Iman will soon come forth. He would lead the Armies of Allah in war against the Infidels. When you see such and such a man in the hills of Afghanistan, you will know he is Iman Mahi (12th Iman). Leave you homes and rally to him."
Who are we told is hiding in the hills of Afghanistan?? Osama Bin Ladin & Al Zawahiri. Did the prophecy of the Double Eclipse happen yet? Yes.
November 9, 2003 (11/9) Lunar Eclipse, November 23, 2003 - Solar Eclipse. [The prophecy above that was given by Mohammed or someone seemed to not have considered these Eclipses to be the total fulfillment of the prophecy. The "Double Eclipses" of October 2005 during Ramadan seem to fit the prophecy better with the positioning of other heavenly bodies].
Blow the trumpet in Zion, sound an alarm in my holy mountain. Joel 2:1 People perish not just for the lack of knowledge (information), but because they reject it. Hosea 4:6
What is the purpose for all the chaos in the world? Is God angry and punishing the sinners? NO! Universal Law is in EFFECT. Whatever a man or nation sows that shall it also reap.
IF WE SOW WAR AND VIOLENCE IN THE NAME OF A "CHRISTIAN GOD" (whatever that is), WE WILL REAP WAR AND VIOLENCE IN THE NAME OF A RELIGIOUS "MUSLIM GOD". IF WE START A WAR IN A FOREIGN COUNTRY, ISN'T IT LIKELY THAT WARFARE ON SOME LEVEL WILL BE MADE IN OUR COUNTRY? What you send out always comes back, but with more.
Is God, Jesus, Yahweh, Allah or any other Deity telling President Bush, Ariel Sharon, Bin Ladin, Christian Coalition, the Radical Muslims or anyone else to Invade, Occupy, Kill, Bomb, Murder and Destroy? NO! Then what is it that's driving these angry RELIGIOUS FANATICAL TERRORISTS? EGO & GREED!! Man's desire to dominate, control and enforce his ideas on the masses. These terrorists are using the oldest scheme in the Book (Bible); GOD-RELIGION to achieve their selfish goals and their followers are encouraging them.
HERE A PARABLE OF CAIN & ABEL
For the last 6000 years of Biblical History mankind has been using God-Religion to JUSTIFY his Crimes against Humanity-and those who agree with it are also Guilty-guilty of supporting terrorism. Let's look at the first recorded act of violence-Murder between the Brothers Cain & Abel. Genesis 4. Abel perceives that God loves and accepts him more than his brother Cain because of the way he practices his belief. Cain perceives that God loves him less, he must work harder, do more in order for God to accept him.
Cain and Abel gets into a heated debate, RELIGIOUS no doubt, Cain feels even more condemned and kills his brother thinking to be more Accepted by God.
It was all about their PERCEPTION of God and the need to feel ACCEPTED. Thus, for the past 6000 years we have killed each other based on a distorted egoic perception of God and the need to feel accepted by Him.
In reality the Supreme Being is far beyond being angered by animal sacrifice, grain sacrifice or any sacrifice. The Prophet Isaiah said he never wanted any of that, all He wanted was our hearts and there is nothing we can do to make Him love us more or accept us more than He already does.
Nevertheless, the silly boys are still in the field Debating, Competing and Killing. One says, I have more OIL than you so I can control the world and be accepted by spreading the teachings of ALLAH. The other one says, No I have Weapons of Mass Destruction so I will take your OIL and your countries and control the world to spread the glory and name of JESUS. But the other boy barely noticed smiling and says, Aha, I will sit back and watch them destroy themselves. Then I will have the OIL, the WEAPONS, the LAND and I will control the world. After all, everyone knows that Yahveh loves me more; I am a JEW/Israeli. The brothers have not grown up, nor their followers in all these 6000 years, they are yet appealing to the gods of Violence, Greed, and Power in their perverted deceived views of the True God of LOVE. This Supreme Being transcends every name that can be attached to him (God, Yahweh, Allah, Jesus etc). GOD IS LOVE!!
WHY IS EARTH ACTING UP?
"Those that destroy the earth shall be destroyed by it." Revelation 11:18 We were given this planet to be stewards over it, but what have we done. We poison the air, water, ground, animals and vegetation. The Earth is groaning with stomach pangs and must heal herself by ridding the planet of its Parasites (much of humanity). Just as the human body processes and flushing out poisons so does the planet.
This cleansing is in the form of Major Earthquakes, Volcanoes Erupting, Hurricanes, Fire Storms, Magnetic Storms etc. Most Christians care very little about maintaining the planet, they feel they will not be here long because they will be Raptured (ejected - fly away) to another planet somewhere called Heaven.
Herein is wisdom. If you can not properly care for and maintain the planet you are placed on, why would God give you the opportunity to make a Pig Pen out of another planet (Heaven)? Furthermore, most hate filled 21st Century Christians would probably immediately start drawing up war plans against the outer realms of Heaven. If there was any truth to the Rapture Doctrine, I am sure that God would have most Christians on the "No Fly List" for security purposes.
As I stated in the beginning of this Prophetic Publication, the purpose for making these things known is to create Awareness and Intercession. "The fervent effectually prayers of the righteous avails much".
Pray over these things bring them before your Prayer Groups. We will be praying specifically during the Conference at the time of the Eclipse, also people from various nations will be making decrees.
THE RING OF FIRE IS ALSO THE FATHERS UNENDING PASSION, COVENANT AND LOVE HE HAS FOR CREATION THAT MUST BE PURIFIED TO EXPRESS THE BEAUTY AND GLORY OF ALL THAT HE IS. WILL YOU ACCEPT THIS RING OF PROMISE FROM THE FATHER THAT YOU MAY BE SET ON FIRE WITH PASSION FOR HIM? JUST SAY, "I DO - I ALLOW IT".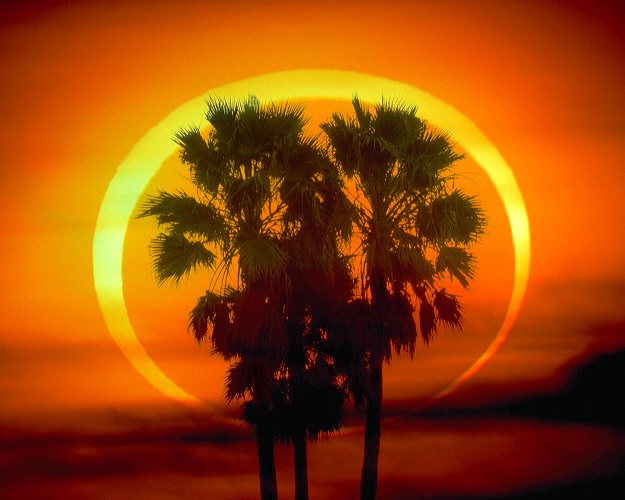 ---RING OF FIRE ECLIPSE WILL APPEAR OCTOBER 3, 2005
The 256 page TribeOscope- Prophetic Empowerment Book (Christian Alternative To Secular Astrology) is available for a donation of only $22.22 Order Today. Make Checks to ATAM @ above address. The 22nd letter of the Hebrew alphabet is Tav (Tau) the T-Cross- the number means LIGHT or Enlightment. You will be thoroughly Enlightened and Changed by the life-giving inspired words of this book.
You will not only be able to understand yourself and destiny better, but you will be able to understand many of the people in your life as you learn things about them they may not even know; so that you may relate to them better. Discover the Strengths, Weakness, Hidden Talents, secret desires of others and yourself. ORDER TODAY AT THE ABOVE ADDRESS.
I SAY TO YOU LIIVVVEEEee,
Order of Melchizedek
FEEL FREE TO FORWARD THIS PROPHETIC MESSAGE AND WARNING TO EVERYONE YOU KNOW. WE ARE AVAILABLE FOR SPEAKING ENGAGEMENTS: WORKSHOPS, SEMINARS & CONFERENCES ON ASTROLOGICAL PROPHETIC EVENTS OR ANY OTHER MATTER- CONTACT US @ THE ADDRESS ABOVE OR EMAIL US @; melchizedek88@yahoo.com