My born again experience and encounter with the Almighty living Yahushua (Jesus) the Christ, left me with a hunger to know Him fully, even until this very day.     I began to devour the Bible during those pre-internet days.   I remember asking someone how I could better study and learn the Bible.  I was referred to the C. I. Scofield  Study Bible (KJV).  The cross-references and footnotes  satisfied the hunger and thirst during those early years, as a newly born again Believer.    Even until this day, I yet use the Scofield Bible,  along with other translations, when I study.
Many years later, while questioning some of C. I. Scofield many footnotes placed in his editions of the Bible, I became somewhat perplexed.    The Holy Spirit was revealing truth that did not agree with his footnotes.  Yet later, I decided to research C. I. Scofield and was disturbed by my findings and it finally made sense why my spirit rejected much of his commentary on endtime events and Israel.
Did Jewish Zionist  create the Scofield Bible?  Was there a plan set forth to purposely deceive and mislead Western Believers in Christ?  What part did the illuminati group called the Secret Six have in funding the Scofield Bible?
What does Zionist mean?   A movement for (originally) the re-establishment and (now) the development and protection of a Jewish nation in what is now Israel. It was established as a political organization in 1897 under Theodor Herzl, and was later led by Chaim Weizmann.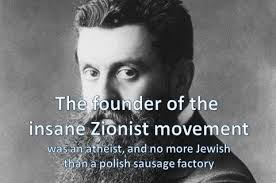 "World Zionist leaders initiated a program to change America and its religious orientation. One of the tools used to accomplish this goal was an obscure and malleable Civil War veteran named Cyrus I. Schofield. A much larger tool was a venerable, world respected European book publisher–The Oxford University Press.
The scheme was to alter the Christian view of Zionism by creating and promoting a pro-Zionist subculture within Christianity. Scofield's role was to re-write the King James Version of the Bible by inserting Zionist-friendly notes in the margins, between verses and chapters, and on the bottoms of the pages."
Before we go further, watch this enlightening short documentary.  Please forward this to your Pastor and any people that have a love for TRUTH.   Unfortunately,  much of Christianity is under such a "strong delusion,"  many would rather continue believing lies and supporting evil; rather than change their mind when faced with factual truth.

Christian Zionism: The Tragedy and The Turning, Part I (Full Documentary) from WHTT on Vimeo.
PROVE ALL THINGS
"How long, O simple ones, will you love being simple? How long will scoffers delight in their scoffing and fools hate knowledge?"  Proverbs 1:22

Check out these links for further verification.  Truth can not be hidden forever.  Share this with the many sincerely deceived Christians.
http://rense.com/general60/zcre.htm
The Perversion of Christ Gospel of Grace
—————————————————————————————————
[THE EVENTS HAPPENING IN FRANCE AND THAT WILL SPREAD TO OTHER EUROPEAN COUNTRIES SOON AND EVEN HERE (AMERICA) … MUCH OF IT WILL BE ORCHESTRATED TO CREATE FEAR.  WE HAVE SPOKEN PROPHETICALLY ABOUT THIS THROUGHOUT LAST YEARS.  THERE IS A PLAN TO EXPAND THE WAR AND ACCELERATE IT TO FULL-BLOWN WORLD WAR 3 IN 2015.   THIS CAN ONLY BE DONE BY CREATING FALSE FLAG EVENTS THROUGHOUT EUROPE AND ON AMERICAN SOIL…SOON. 
12/1/15 –  14 DEAD over 20 INJURED IN SAN BERNADINO, CALIFORNIA –  ATTACKERS HAS ISIS TIES – http://news.yahoo.com/pious-california-killer-showed-no-outward-signs-violence-081939530.html#
EYE BELIEVE IF ENOUGH PEOPLE INTERCEDE AND RELEASE PROPHETIC DECLARATIONS/DECREES TO UNCOVER & EXPOSE THE EVIL DOERS AND THE BLUE PRINTS OF THEIR PLAN…THEY WILL NOT BE SUCCESSFUL IN 2015.   JOIN ME IN ENGAGING THE SPIRIT @ A PROPHETIC LEVEL (meditation, shouting prophetic declaration, prophetic demonstration of uncovering what has been covered).   IF WE ARE SUSCESSFUL, BY MARCH 2015…PEOPLE IN HIGH PLACES WILL BE EXPOSED, OPERATIONS WILL FAIL & A CONSPIRACY WILL BE UNCOVERED.]
PUTIN DISCLOSES WHO ISIS IS:
ORDER OF MELCHIZEDEK

Print Friendly
We Accept Donations For Our Non Profit Work. Thank you.




Sharing is Caring