How refreshing it is to hear men or women of God with a huge platform "get real" and tell the 'politically incorrect' truth. Bishop T. D. Jakes says, "Churches Have Become 'Prostitutes to Politics.'" Last weekend, I was speaking at the School of the Prophets @ Christ Revealed Embassy, near Baltimore, Maryland; I stated the same things. Of course, this was not the first time I stated that, for most of my ministry, I have shouted that.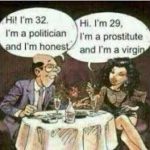 Here is what the Bishop said, ""The problem that the church finds is that we find ourselves having to hook our wagon to one political side or the other, when the truth of the matter is we don't totally agree with either side about everything," he explained.
"We end up with debris or contamination—when we attach our identity to either [party] and act like this is God's choice for the body of Christ," he said.
Watch the video clips of the debate and read the rest of the CBN article at this link: Prostitutes To Politics
Here is a video clip of me speaking @ the School of the Prophets in Mitchellville, Maryland – 5/6/17
(SUBSCRIBE TO OUR YOUTUBE CHANNEL – WE WILL SOON BE ADDING VIDEO CLIPS AND FULL VIDEOS FREQUENTLY – GET THE NOTIFICATIONS FOR THE LATEST VIDEOS)
Order of Melchizedek

Print Friendly
We Accept Donations For Our Non Profit Work. Thank you.




Sharing is Caring