DONATION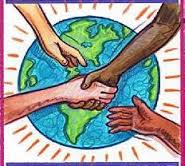 Welcomes you to the place of Unlimited Blessings. It is truly more blessed to Give than to receive. We thoroughly enjoy giving all the wisdom, knowledge, revelation, prophetic & informative research the Creator has given us to help you grow spiritually, prepare and warn you about the future.
This page is dedicated to Receiving your gifts of love for the expansion of God's Kingdom. We are an international non-denominational ministry.
By clicking on the link below, you can Give through our free secure PAYPAL Account. You will now be able to contribute a Tithe, Offerings and gifts toward our Missions, Conferences, Maintenance of this website, Office or whatever. All your Gifts are TAX DEDUCTIBLE as Always. We do send out Donation Receipts with our EIN (number) on it.
Activate the Universal Law of reaping (receiving) by sowing a seed (donation) today – It is an energy exchange that sets in motion unlimited harvest, for those that practice it and Believe.
Luke 6:38
"Give, and it will be given to you. A good measure, pressed down, shaken together and running over, will be poured into your lap. For that which you give out shall come to you again many times over."
Deuteronomy 28:2
"And all these blessings shall come upon you and overtake you, because you obey the voice of the LORD your God:" (NKJ)
Malachi 3:1
"Test Me now in this, says the LORD of hosts, "If I will not open for you the windows of heaven and pour out for you such blessing that there will not be room enough to receive it". (NKJ)
WE ACCEPT ALL MAJOR CREDIT CARDS & DEBIT CARD AT THIS SECURE ACCOUNT.




For those that wish to send a Check or Money Order Send to:
Age To Age Ministries
P O Box 42383
Phoenix, Arizona 85080
USA
THANK YOU!
Contact
Age to Age Ministries

Print Friendly
Sharing is Caring