Everyone around the globe has some level of fascination with Pyramids.  We can't help it, it's a God thing.  From the Pyramids of East Africa (Egypt), to the Pyramids of Antarctica, and the recently discovered Pyramid on Mars.  The Bible speaks about the Great Pyramids of the Giza plateau in Egypt.
"In that day shall there be an altar to the LORD in the midst of the land of Egypt, and a pillar at the border thereof to the LORD.  And it shall be for a sign and for a witness unto the LORD of hosts in the land of Egypt: for they shall cry unto the LORD because of the oppressors, and he shall send them a saviour, and a great one, and he shall deliver them."  Isaiah 19:19-20

Eye believe this Scripture gives us a clue why people are drawn to pyramids.  They seem to be places of spiritual energies, sacred places on the planet, created with technology beyond what we know of using sacred geometry.  Eye believe not only the Great Pyramids of Giza will come alive and be a center of unusual spiritual activity, and other worldly encounters, but all the Pyramids will assist in bringing creation, humanity and earth itself back into divine balance.
I have been blessed to meet many wonderful and interesting people from all over the world through my website.  Some years ago, I was blessed to me John & Rachel Thibodeaux from Louisiana.  We have shared some awesome moments and encounters together.  A while back I noticed that John had evolved into a Pyramid Maker extraordinaire, using his skills, intuition and guidance from the Holy Spirit and angels, many will be blessed with this sacred work of art.  About a month ago, Eye heard Spirit say to share his work with our reading audience, so they may also be blessed.  Plus, I also have one of his Pyramids.
You can get one or more of these power pyramids to add to your sacred space or create a sacred space for it.  Put your intent in it and watch divine balance and energy increase in your world. The pyramid is just a modality used to amplify and energize your  prayer.  At this point your Pyramid will be shipped within 2-3 weeks.  As it gets closer to the holidays, it could be 4-6 weeks; order early.  Makes an excellent unique 'spiritual' gift in all seasons.
Here is the Pyramid Maker- John Wayne Thibodeaux & his wife Rachel, and a word from him.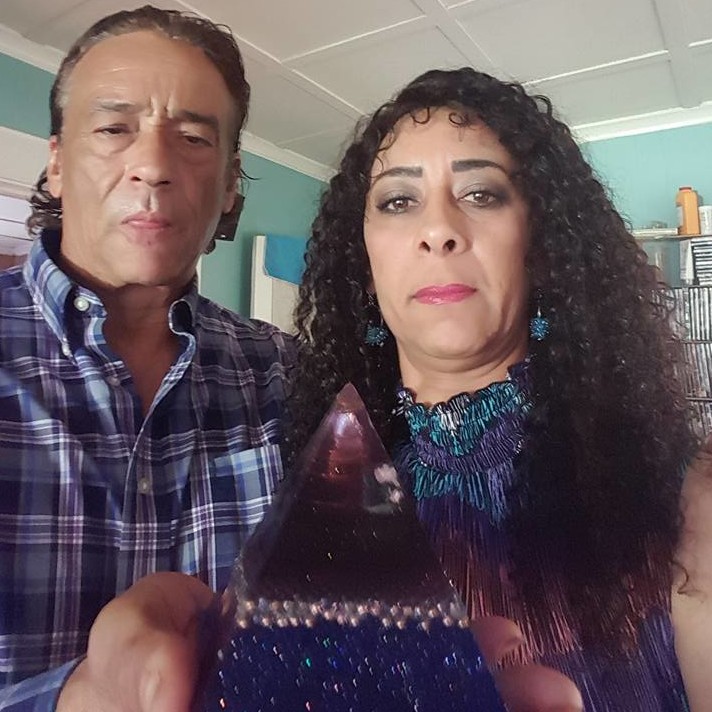 My hunger for spiritual truth is one reason how and why I am so intrested in the study of pyramids!  One night out of nowhere I had a vivid dream about pyrmids and that same morning a close friend who happens to be a naturapath doctor sent out emails about Russian research on pyramids and thats how I got started in the quest for knowledge of Pyramid Energy!  I knew scripture said let it be established by the witness of two or more.  I knew this was not a coincidence and I have always been after truth even if it went against traditional ways of thinking. 
Basically pyramids are collectors of negative ions and cosmic energies which in turn focus these energies in the middle of the pyramid.  This is how we get the word pyramid.  Pyra means fire and mid for middle or fire in the middle!  There are hot spots outside the pyramid as well, such as above the apex and outside all base corners.
                 Research by the Russian Scientists shows pyramids have a positive effect on living organisms.  They placed salt water shrimp outside the pyramid and some inside the pyramid.  Those outside lived their normal life cycle which is 6 to 8 weeks, but those inside the pyramid lived well over a year and were 2 to 3 times larger. I personally took an 18 volt battery, which was drained to only 3 volts; which was not enough to run my drill.  I then placed it inside my pyramid for several hours and this to my amazement brought the battery up to 16.5 volts which then was able to run the drill.  I have placed fruits inside and were preserved 3 to 4 times longer!  You can place water inside the pyramid and the structure of the water will change to benefit human life!  People having spent time in pyramids feel energized and refreshed or even healed over a period of time.
                Introducing Orgonite and Pyramids in one unit!
Orgone was a term used by Medical Doctor/Scientist Wilhelm Reich to Identify Life Energy Fields.  He discovered by layering organic and inorganic matter, life energy could be cleansed condensed and magnified.  This form of energy is known by various cultures as Chi, Prana, Either Life Force, even as Spiritual Realm!  Reich created devises to harness this energy to cure illness and modify the weather.  Reich was considered to be one of the greatest minds of the 20th century.  Orgone tools are powerful spiritual devices used to enhance all area's of your physical, mental, emotional, and spiritual life.  They can be described as transmitters of universal lights energy also known as source energy, either, and zero point energy.  These energies are directly from our Creator.  This higher dimensional field is the animating force behind all creation and has the capacity to automatically transform lower vibration (negative) energy into a higher vibration (positive) energy.  By simply holding or being near one, negative energy will be cleared from your field.  It will transmute negative energy from cell phones, microwave or any damaging negative energies.  Orgone Pyramids should be aligned Magnetic North!
 Any pyramid constructed of non metallic material is said to function best positioned True North, and those made of metallic material should be positioned Magnetic North!  There are many schools of thought as to why they function best this way one being negative ions are collected more effectively positioned Magnetic North on a pyramid made of metallic material.
    It is said by researchers that if you have a pyramid modeled after the Cheops Pyramid in Egypt no matter where you are and no matter the size of your pyramid there will be a connection with the Great Pyramid in Egypt!  Also the more pyramids you have they will create a Unified Energy Field that creates a greater healing effect.
Now what we've done is taken Pyramid Energy and combined it with Orgone to produce an even greater benefit for anyone near these pyramids.
Our pyramids are not only beautiful but highly functional!  They are constructed by layering organic and inorganic materials in clear coat resin.  Ort organic consists of using terminated even double terminated Brazilian Quartz Crystals, most often we will wrap copper around the crystal for an extra squeeze effect when the resin dries this causes the crystal to function as a continual motor.  We use a variety of gems and stones such as Citrine, which is great for the digestive system, general health, heart, kidneys, liver and sexuality.  Other stones are Amethyst, Clear Calcite, Sodalite, Jade, Malikite and many others.  All pyramids are designed with the intent for health and wealth!
      Our inorganic layer may consists of a variety of metals such as pure copper, steel, bronze and brass shavings.  Some layers may consist of black Iron Oxide as well.
All of our pyramids will have beautiful copper spirals, infinity designs, or copper coils or funnels. If anyone is interested, we can incorporate polished copper pipes into the pyramid, so that  then it becomes a capstone and furnish you polished copper connectors where you can have a pyramid the size of your choice from 3ft, 4ft, 6ft, or even 8ft to fit over your bed,  just let us know if this is something you are interested in.
SOMETHING NEW FROM JOHN, THE PYRAMID MAKER!!!!!
THIS IS THE 8 INCH NUBIAN. WE CAN DO ONLY TWO SIZES BECAUSE IT IS A 72 DEGREE SLOPE VERY STEEP BUT SAID TO BE 200X MORE POWERFUL THAN THE GIZA 3 FT BASE COMPLETE PYRAMID WITH ALL POLISHED PIPES CONNECTORS AND INSTRUCTIONS. 540.00 4 ft NUBIAN COMPLETE PYRAMID 640.00. SHIPPING INCLUDED IN US ONLY. LIGHTS BUILT IN PYRAMID OPTIONAL 130.00
(All the Pyramids listed below can be created in Any style or size in the price ranges below)
MAJESTIC MOVER  – (8 inch  Giza Style)
DIVINE LIGHT – (8 inch Giza Style)
CONFIDENCE – (4 inch Giza Style)
ALL THINGS ARE POSSIBLE – (8 inch Giza Style)
CHRIST PRINCIPLE – (4 inch Nubian Style)
ETERNAL LOVE – (4 inch Giza Style)
DREAM MAKER – (4 inch Giza Style)
DIVINE HEALTH – (6  inch Nubian)
CAPSTONE
(All the Pyramids listed below can be created in Any style or size in the price ranges below)
PYRAMID DISCOUNT PRICING: SHIPPING INCLUDED –  EXCEPT ADD $50.00 USD FOR INTERNATIONAL ORDERS
GIZA TYPE SMALL 4 INCH BASE  $110.00 – USA Shipping Included
NUBIAN TYPE SMALL 4 INCH BASE $110.00 – USA Shipping Included
GIZA TYPE MEDIUM 6 INCH BASE  $310.00 – USA Shipping Included
NUBIAN TYPE MEDIUM 6 INCH BASE 220.00 – USA Shipping Included
GIZA TYPE  LARGE 8 INCH BAZE $325.00 – USA Shipping Included
JUMBO GIZA TYPE  11INCH. $625.00 – USA Shipping Included
ORDER AND PAY FOR ALL PYRAMIDS USING OUR SECURE PAYPAL ACCOUNT
ANY CAPSTONES FOR MEDITATION PYRAMIDS ARE SPECIAL ORDERS AND MUST CALL IN.
CONTACT
337-309-7027
Contact John & Rachel on Face Book- See their videos – 
https://www.facebook.com/elohim123?fref=ts
Check out these awesome pyramids
Posted by John Thibodeaux on Wednesday, July 8, 2015
Order of Melchizedek

Print Friendly
We Accept Donations For Our Non Profit Work. Thank you.




Sharing is Caring