KINGDOM KARATBARS GOLD
"Surely there is a vein for gold…" Job 28:1
Shalom, I am John Lewis. Many of you know me from our prophetic ministry & website, Age To Age Ministries Int'l.
Some months ago our ministry evolved to yet another level. We have felt greatly inspired by Spirit to spend time educating others in the area of finances. Nearly half of the Kingdom Parables of Yahushua (Jesus) were about Money & Wealth. As wise stewards of the Kingdom, we must become responsible with our finances, and not like the wicked slothful steward who did nothing. Matthew 25
Just before Fall 2013, I was re-introduced to Karatbars Int'l. This company teaches how to exchange paper currency for gold. It makes sense to Exchange failing Paper Currency (dollars) for 24 Karat 999.9% LBMA refinery certified Currency Grade Gold-Money.
Our mission is to make people worldwide aware of this golden opportunity to GET A FREE GOLD SAVINGS ACCOUNT & Begin ACQUIRING AFFORDABLE GOLD (1) gram or more at a time.   For those wanting an extra income, we can show you how to GENERATE A HIGH INCOME in the International Currency Exchange Market on line. Wow! Isn't that exciting???!! (This is not MLM. You are not required to build a business, if you only want Asset Protection). Check out the links above, the info is designed to help further educate you about fiat currency (paper money) vs real money. We have a powerful tool to help you begin to move from Federal Reserve Notes (dollars) to Gold today. Knowledge and action can change your world in a short time.

"In the absence of the gold standard, there is no way to protect savings from confiscation through inflation. Deficit spending is simply a scheme for the confiscation of wealth. Gold stands in the way of this insidious process." — Alan Greenspan

I understand it!! Please show me how to open a Free Gold Savings Account with the Kingdom Karatbars Gold Team. Have someone contact me. Click here~ HELP ME SET MY FINANCIAL HOUSE IN ORDER   (If another Karatbars Affiliate sent you here, please contact them for registration).
Kingdom Karatbars Gold provide an excellent opportunity to have a Free Gold Savings Account in place, so when the RV of IQN/IQD, Vietnamese Dong happens and other currencies; one can easily exchange large amounts for Karatbars gold. This can be stored in Germany or delivered to your home.
Karatbars offers unbelievable benefits for its Affiliates with no obligations on your part.
BENEFITS OF GETTING A PACKAGE
3% OFF ALL GOLD PURCHASE 3-10 YEARS BASED ON PACKAGE YOU CHOOSE
EARN GOOD MONEY FROM THE TEAM POOL OF COMMISSIONS EVEN IF YOU ARE NOT BUILDING A BUSINESS
GET FREE GOLD & OTHER INCENTIVES..ETC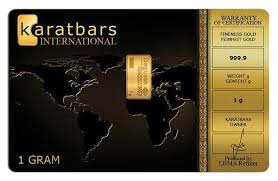 (Scroll up to the links to get more info on Your Money, Money Facts, Compensation Plan, etc)

ORDER OF MELCHIZEDEK

Print Friendly
Sharing is Caring