I was reading the news on the internet over the past few days and saw "House of Cards' kept coming to the top of the news feed. I remember watching an episode a few years ago, while in my hotel room and enjoyed it. I don't remember the details now. As I read the news, Eye could clearly see prophecy in motion on many levels and the fulfillment of things I posted on this website in the past. Predictive Programming is something we have mentioned many times over the years. The owners of Hollywood and their overlords abide by an unwritten code as they shape the consciousness of America through Media and Entertainment. That unwritten or unspoken code is, they must warn us before an event happens, which will impact mass human consciousness in a major way, whether the impact is negative or positive.
The House of Cards is an American political thriller web television series created by Beau Willimon. It is an adaptation of the BBC's miniseries of the same name and is based on the novel by Michael Dobbs. The thirteen-episode first season premiered on February 1, 2013, on the streaming service Netflix. Thirteen-episode seasons followed on February 14, 2014; February 27, 2015; March 4, 2016; and May 30, 2017.
Set in 2010s Washington, D.C., House of Cards is the story of Congressman Frank Underwood (Kevin Spacey), a Democrat from South Carolina's 5th congressional district and House Majority Whip. After being passed over for appointment as Secretary of State, he initiates an elaborate plan to get himself into a position of greater power, aided by his wife, Claire Underwood (Robin Wright). The series deals primarily with themes of ruthless pragmatism,[2] manipulation, and power. Wikipedia
The heavens have been prophesying for some time now that we are in a time where everything will be shaken and uncovered. The prophetic word is layered and actually includes hidden agendas I will comment on in the next writing. The political corruption and sex scandals as reflected in the TV series "House of Cards" mildly reflect the depth of the corruption of this present Administration, DC and sex craved politicians and those in the entertainment industry. Hurricane Harvey Weinstein introduced the Category 4 level of Sexual Harassment, Perversion and Rape that the Political and Entertainment Industries are plagued with. Just as Hurricane Harvey in August expanded and waffled back and forth in the Gulf States, we have seen the Harvey Weinstein allegations expand to include many others.
After Hurricane Harvey, there were a series of other hurricanes that brought destruction and for the first time in recorded history, 3 hurricanes (Irma, Katia, Jose) were moving at the same time, plus, others later developed. This is manifesting in the Political & Entertainment Industry with Kevin Spacey and others. We have never seen these many sexual allegations at the same time, accounts of rape, multiple rapes, Spacey attempts to rape multiple young men, and over 300 women, not counting the growing number of men, claiming sexual misconduct from multiple political and entertainment figures. Unfortunately, there is the religious storm of accusations coming that we spoke about in the 5778 New Year Prophetic Post. Then you will have the 3 hurricanes (political, entertainment, religious) storms of scandal moving at the same time.
Getting back to the falling House of Cards. The series has come to an end and been canceled, as of a few days ago. The predictive programming or art predicting life is confirming to us and showing us the fall of our political system, this Administration, the Media and Entertainment industry. These shaky structures built on the personalities and characters of "swamp people" are in free-fall and will completely crumble.
After researching some of the episodes of House of Cards series, we see the similarity between this present Administration and the predictive episodes:
The photo from House of Cards is of a scene in season 3, which premiered in 2015, well before Donald Trump was president. (Really, well before it seemed like Donald Trump could even be the president.) In season three, the Russian president Viktor Petrov comes to America for an official visit that does not go particularly well. In the corresponding photos, the American presidents (Trump and Underwood) are holding out their hands; the Russian presidents are not interested in shaking hands.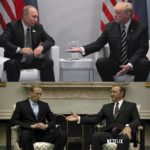 With Kevin Spacey being Canceled and the series ending, I think the public is being warned of what Eye have stated since November 2016. This Trump Administration of Swamp People will soon come to an abrupt end. But how will they do it? Kevin Spacey aka President Underwood in the House of Cards was exposed for criminal activity activity of many years ago. This revelation led to a falling house of cards affect of many other men coming forward. Then, Kevin Spacey checked himself into Rehab. (Aint it strange that these multi-millionaires, celebrities immediately find a swank rehab facility when they are exposed?)

To save America more embarrassment, as more of Mueller's investigation focuses on Trump's crimes of money laundering, treason, golden showers with hookers, and Russian Collusion; Trump will probably be declared, "Mentally Unstable- Incompetent," suffering from Alzheimer, or some mental disease. Of course, it wont all be true. He'll get to go to Rehab or some swank mental facility for a short while, and be Pardoned for all his crimes against the State. The evangelical Christians will blame it on the devil or witchcraft, to excuse him and themselves. A further distraction from the truth will most likely be a Divorce from Melania (possible scandal surrounding her and or with Trump's adult-kids) . All of this will be further distractions, so the USA can save face and try to get it's leadership position back in the international community, which Will Not happen. The Houses of Cards are free falling (Political, Entertainment/Media, Religion).
Scarborough: Trump Allies Told Me He Has Dementia November 30, 2017

Here are some episodes excerpts I found interesting ~~HOUSE OF CARDS
The Follow-Up to this article will deal with the other layers of the many revelations coming forth on sexual assault. I call it the sexo-psychological warfare on America or everything is sex. DON'T TOUCH ME…
[I AM SURE THE FALL OF THE HOUSE OF CARDS IS SIGNALLY BIG CHANGES PROPHETICALLY FOR THE CREDIT CARD -DEBT BASED FINANCIAL/BANKING INDUSTRY. WATCH!]
Order of Melchizedek

Print Friendly
We Accept Donations For Our Non Profit Work. Thank you.




Sharing is Caring