At the beginning of each year we post prophetic words of what has been shown through vision, dreams, intuition or simply reading signs in creation.  We have already posted some  articles since January 2015 of coming events and potentially coming events to be in prayer about.  Spirit is yet moving me to mention things in this public setting that we have share in meetings or privately with others that understand the power of intercession.
First of all, we want to give a shout out to  Pastors Floyd and Mae Beecham in Minneapolis, MN for hosting a glorious Overcomers Conference.  The (5) services Eye ministered in seemed to merged into one huge Holy Spirit Explosion starting from the very first night.  We also appreciate those who traveled from Canada, Florida and other parts.
Here are things we should be praying about that Eye See.  Keep in mind that Spirit reveals not only to show us the future but to sometimes give us an opportunity to change it.
SCHOOL SHOOTINGS:
Over the years we have announced beforehand plans, plots and events that unfortunately happened in the schools.  Some were prevented, I am sure because of intercession and Light uncovering the works of evil.    Eye have heard from Spirit that this month of March plans are being made.  From early Spring  we are moving into a very vulnerable time.  EYE SEE a Major School Shooting  Plan –   There will be many fatalities…UNLESS there is divine intervention.  There are several shootings being planned in various parts of the country and most will likely be uncovered or stopped before the shooters fulfill their goals.  However, Eye do see that one have the potential to be extremely deadly.  Begin praying over your area, the schools that your children, grandchildren, relatives and friends attend.  Send Light to expose, disrupt and defeat the plans of murderers.
(I think the prayers of the righteous prevailed to prevent this School Mass Murder Plot that was uncovered 3/13/15 – Read here SCHOOL  MASS MURDER PLAN UNCOVERED )
(http://www.washingtonpost.com/news/post-nation/wp/2015/04/27/very-brave-teacher-tackles-student-gunman-at-washington-high-school/)
10 DEATH IN OREGON SCHOOL SHOOTING – OCTOBER 1, 2015  http://www.cnn.com/2015/10/01/us/oregon-college-shooting/
FALLING CELEBRITIES:
In the beginning of the year Eye spoke that Father would give a sign of celebrities falling.  (We do not wish this on anyone-we only announce what is shown)  EYE SEE coming changes in the demonic occultic music industry.  EYE SEE Producers suddenly being removed and accidents.  EYE SEE major celebrities-stars falling and the whole industry in Shock.  EYE Release a Prophetic Decree and Declaration to bring that corrupt system down that has destroyed the minds of young and old.  EYE command major household names to be brought into swift judgment for the sake of repentance.
EYE send Confusion, Unrest, Lawsuits…EYE call forth Whistleblowers to Expose what has been done in the dark.  Summer into Fall seasons there will be lots of celebrity news…as Eye see an unraveling taking place in Hollywood and Music Industries.
(About a week before Madonna fell off the stage at the Brits Award, she came to me in a dream/vision.  We were having a discussion about spirituality…she was conflicted and becoming confused in her thinking and belief.  I was able to shed some light,  she was not able to totally receive but pondered on what I said.  We pray for the many talented people who are being used by the darkside.  Here is an image of Madonna falling backwards off stage over a week ago-this was our prophetic sign coming to pass.  This show was filled with demonic symbolism, colors, baphomet horns, etc)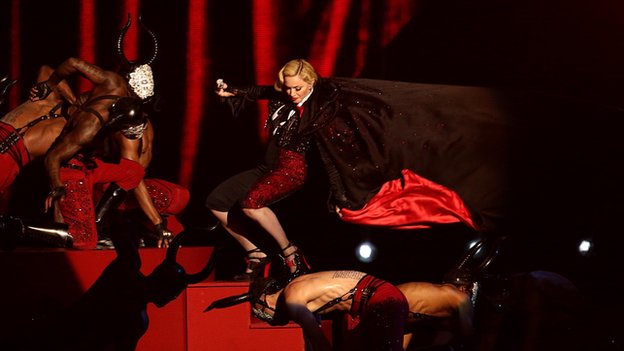 PRESIDENT OBAMA DANGER:
We know that as President there is always danger and even moreso as a Black President of the USA.  Last year September 11, 2014, while writing a Prophetic Blog http://atam.org/isis-cia-mossad-creation/– Spirit begin to speak about President Obama.  Here is what was said:
"While writing this article, I just heard on radio news that President Obama has approved for Airstrikes in Syria.  As I listened to the news report, Eye heard, "This decision comes under great duress and this Fall season will be a very vulnerable time for President Obama with many dangers around he and his family…Pray for them." 
(8 days later- this is a sign to the Word of the Lord) -Man Jumps Fence and Breaks Into the White House with a Knife & 800 Rounds of Ammunition In His Car- 9/19/14 http://www.washingtontimes.com/news/2014/sep/22/obama-concerned-about-white-house-intruder/
About a week or so after that, there was another man that jumped the fence but did not get into the White House. )
"We share this because Spirit has been speaking again that there is grave danger around the President as we come into the spring season.  Eye Do Not See them being successful.  Nevertheless, pray for he and his family.  By May, there should be some sign leaked or reported in foreign news of a foiled plot."
Validation sign of planned attack on President Obama:  MISSOURI MAN PLANNED ON SHOOTING PRESODENT OBAMA WITHIN 2 WEEKS
POLITICIANS SWITCHING SIDES – REPUBLICIANS BECOMING DEMOCRATS:
(I do not have a Political Party, nor do I vote.  I have a Kingdom Party.  However, Spirit normally reveal who will win the elections and we announce it before hand.)
The time is coming for the word below released initially November 8, 2012 to manifest.   EYE SEE Republicans changing sides and becoming Democrats and Independents – major players…Leaving the Party in disarray, confusion and distress.  Eye expect before this year is out there will be shock and awe in the Republican camp. 
December 6, 2012 – Eye wrote a prophetic message called POLITICAL SIGNS IN THE NEWS  – Here's an excerpt:
"EYE SEE a phasing out of what we know of as the Republican party.  It will be broken up into many factions.  As we continue to evolve and move forward as a galactic community, there will be less room for the divisiveness, intolerance and religious anti-Christ spirit that plagues the Republican party."  (Initially spoken/written November 8, 2012)
GEORGE H. W. BUSH SR WILL DIE AGAIN… OR SOMEONE CLOSE TO THE FAMILY WILL BECOME INCOMPACITATED.
Some of you are wondering if that's another one of my uncheck typos again. "Die Again."  No it is not.  The person you see masquerading as George Bush Sr is a clone.  George H W Bush Sr died December 2012 according to the word of the Lord released by me.  Watch this.
July 5, 2012 – we posted a powerful prophetic message called THE HYADES. Here's an excerpt from one of the prophetic words Eye released – information from the star angels:
"Eye see the Hyades coming into our attention at this time with Venus is showing us that over the next 6 months there will be weeping and grieving for the lost of world leaders. World leaders that shall suddenly be taken from off the scene."
November 23, 2012 Bush Sr.   was  admitted into the hospital.  December 27, 2012, his condition has worsen, he was intensive care and the Bush was burning up with a fever.
December 30, 2012- the German media leaked his death and posted an obituary on the internet, until they were forced to retract it.    http://www.usatoday.com/story/news/world/2012/12/30/german-magazine-bush/1798865/  
Eye prophesy again and command this clone to malfunction, fail and be removed.  Let this be a sign for what will happen with the Republican Party.
["In recent reports, George W. Bush Sr. had died approximately a month ago in a Hospital in Houston. Witnesses were told not to disclose this under the matter of National Security. This was Bush Sr. #41, his 41st clone to have passed."  This was reported in a "Operation Disclosure" blog, dated May 23, 2015. 
"George HW Bush, 91, falls at Maine home, breaks bone in neck."    This is the 2nd report since the decree and declaration was released.]
(We realize not all understand the operation of the prophetic or the prophetic office.  Please refrain from sending negative emails and read your Bible.) 
FALSE FLAG TERRORIST ATTACK PLAN – EAST COAST
In 2001, we announced the 9/11 attack nine months before it happened describing buildings being destroyed on the East Coast…stating the month it would happen.  Again, 3 months prior to the demolition of the Twin Towers, while Preaching @ the Feast of Pentecost Conference in San Diego, California- the Spirit spoke before a few hundred people warning.  While speaking through my interpreter Jose Barbosa to a Spanish speaking congregation, I went into a short vision/trance and described famous building being attacked on the East Coast.  It was totally off of my message and I forgot about it afterwards until the morning of 9/11, when my phone began to ring and people from San Diego reminding me and telling me to turn on my TV.
We have announced other false flag plans several times over the years and encouraged others to pray and intercede.  Eye feel that each time the plans were thwarted because Light prevailed.  There is another serious plan in the making for this year.  Just as the 9/11 event, it will not be done by Muslims, ISIS or the people your Zionist controlled media say.  Again, it will be an inside job with the heavy handed help of the Mossad.    Eye speak as if it is inevitable but Light can soften the impact, or prevent it. 
AIR CRASHES
We are about to see an increase of Air Disasters again…Unless Spirit intervenes.   They will not tell you the truth of what is causing some of the recent Air Disasters and those coming soon.   Many years ago, Eye saw and Eye prophesied Geomagnetic disturbances somehow interfering with air crafts, but the public would not be made aware.  (I am not a scientist nor have the vocabulary to explain fully what Eye See/Saw.)
Earth is changing, evolving, growing, groaning, travailing and giving birth to a New Earth.  It is not an instance process.  During this process these geomagnetic disturbances will continue to interfere with air crafts, cell towers and other things.  They are working on some technology to correct this. 
In some strange way, the geomagnetic frequencies are assisting with the opening of other portals around the planet similar to the Bermuda Triangle, where ships and air crafts will disappear and never be found.
[We are not saying every Air Crash will be attributed to geomagnetic frequencies – we are only saying during this period there will be an increase]
****** 3/29/15 AIR CANADA CRASH LANDS – 23 INJURED
***** 3/24-15 – FRANCE AIR CRASH 150 DEAD
****   3-11-15 – MILITARY  HELICOPTER CRASH- 11 DEAD
EAST COAST WEATHER – EARTHQUAKES
Father must have some great plans for the East Coast.  Where negativity abound, the Grace and Power of God will much more abound. 
You have seen the Snow, Ice and Winter Storms –  The Tornado & Hurricane season will be big this year, with the potential for lots of major devastation; especially in the southern states.  Spirit gives us a chance to change these things by announcing what is coming.
Eye am yet seeing BI-COASTAL Earthquakes –  The energy is yet disturbing from Florida to Connecticut.  After, Eye spoke this and posted it last year and early this year  – Connecticut had an Earthquake swarm of 25 small earthquakes Jan. 2015.  Hopefully, enough pressure was released to prevent an above 7.0 in the area.  We will continue to release Light and stability.
*** 3/24/15 – 6.1 EARTHQUAKE HIT BRITISH COLOMBIA, CANADA – RATTLES WASHINGTON STATE, IDAHO & MONTANA
(We are also moving into a phase of Earthquakes over 7.0 globally)
*** 3/30/15  –  7.6 EARTHQUAKE STRIKES PAPUA, NEW GUINEA 
**** 4/25/15 – 7.8 EARTHQUAKE STRIKES NEPAL – OVER 2500 DEAD – DEATH TOLL RISING IN INDIA, TIBET & BANGLADESH ALSO.
———————————————————————
Miracle Money testimonials moved to:  http://atam.org/miracle-money/
ORDER OF MELCHIZEDEK

Print Friendly
We Accept Donations For Our Non Profit Work. Thank you.




Sharing is Caring